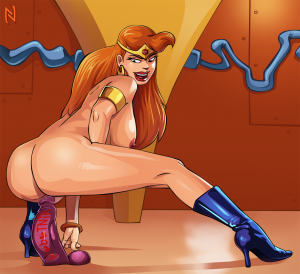 The WWOEC Woman of the Month for November 2015 is Katella, from the "Adventures of Sonic the Hedgehog" television series. I never watched the show, and I know it mostly through memes, but I watched her one episode appearance (episode 40, "Zoobotnik"). The show is weird, and in a way I don't know if works. It's funny, but not in the ways it tries to be. Robotnik's voiced by Long John Baldry, though, and is easily the highlight of the show.
Katella is a space huntress who captures rare animals and sells them to distant galaxies for zoos or something. I don't know why, but for some reason she catches everyone except Sonic until Robotnik convinces her to. She's madly in love with Robotnik (apparently because he's the most evil person she's ever met), and the episode revolves around this. By the end she leaves to never be seen again, but for my picture I decided that maybe she had something molded to remember Robotnik by.
I may be drawing Katella again some day. I have a large project in the works she would fit into, though I haven't decided for sure if I want to use her in it. We'll see.