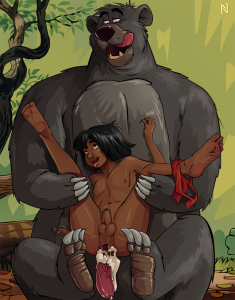 Mowgli's new year's resolution is to enjoy the bear necessities to their fullest potential!
This is the second in a series of Jungle Book commissions I'm working through, this time pairing Mowgli with his big furry buddy Baloo. I had a lot of fun with this one, I don't work much with fur so it was a unique challenge. I'm mostly happy with the final result, and I love the way Mowgli is clutching at Baloo's chest fur as his cum leaks out.
Obviously this is going to me my last post in 2015, but I'm already hard at work making sure 2016 is full of even more art for you all! This year has been my most productive ever, which a much greater rate of releases that I'm very happy about. We even managed to make more posts this year than the first year of the blog, when I was posting old pics almost every day for a while. If I can keep this pace up, next year will be packed full of all your favorite characters getting fucked silly! I hope you're looking forward to it!