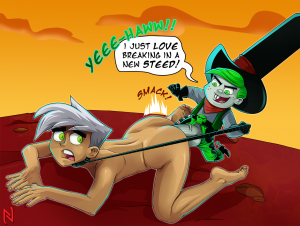 The little guy here is Youngblood, a minor (no pun intended) Danny Phantom villain with only a couple of significant appearances. The first time he showed up it was to team with Ember while dressed as a pirate. His second appearance is this one, where he played cowboy and tried to make Danny's family think he'd gone crazy. In this pic he takes a slightly different approach to getting his revenge on the ghost boy.
This picture came about after, relatively out of nowhere, I started getting more and more into the idea of a shota getting topped by a younger (but "bigger") shota. Other artists I hold in high esteem had done this a lot already, and we're heading that way in A Trip to the Past, but I decided to test the waters a bit for this particular type of pairing. I know ATTTP is very popular, but I'm not sure how much of that is due to the idea of younger boys topping an older one, and how much is just the phenomenon of Dragon Ball and Gohan, both of which seem to go over well around here no matter what.
I have several ideas at the ready from different series if it seems people like this sort of thing. If not, well, it'll probably still crop up here and there, but maybe not as soon or as often. If you have an opinion on the matter, let me know.