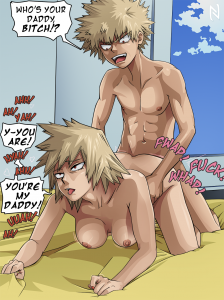 I got this started much later than I'd intended, but once I was working on it things moved surprisingly fast. I didn't even have time to post this one in the preview bar.
So this is the Near Hentai Monthly Lady for March 2016, Mitsuki Bakugou from My Hero Academia. I've drawn MHA a couple times, always yaoi of the hero Deku, but I've been wanting to delve into the female characters for a while now. Mitsuki wasn't my first pick, since she's an extremely minor character at this point (3-4 page scene in the manga, not in the anime at all yet), but she was still one I really wanted to draw. There's just something really sexy about her design, even though (or perhaps because) she's mostly just her son Katsuki with huge tits.
In her brief appearance in the manga, she's shown to have something of a volatile relationship with Katsuki. They yell at each other, call each other names, and she hits him a few times, but it all seems pretty loving in a dysfunctional sort of way. I thought it'd be fun if their relationship was slightly different behind closed doors… Katsuki is used to getting his way all the time, and that probably started in his home life.