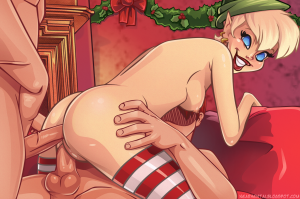 The WWOEC Woman of the Month for December 2014 is one submitted by myself, Jingle Belle. I admit, I haven't actually read the Jingle Belle comics much, but I like her design and she fits well with the season. So, for that reason, this doubles as my Christmas pic (not that I had one planned).
The funny thing is, I had originally planned to submit Polly Green, Jingle Belle's Haloween-themed friend, for the October WWOTM. I forgot, though, and submitted Judge J. B. McBride instead. The judge was picked, meaning if I had remember what I had planned, there would've been two Jingle Belle characters in the appropriate months.
On a side note, I need to stop naming my files after songs. I had Anita Ward's "Ring My Bell" stuck in my head the whole time I was working on this.