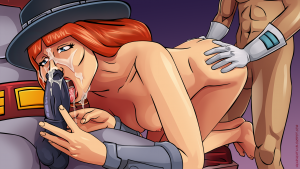 The WWOEC Woman of the Month for October 2014 is Judge J. B. McBride from Filmation's BraveStarr, nominated by yours truly! As usual, I wanted to contribute something to the event, despite the fact that I cannot nominate for next month.
Most people know Filmation for He-Man and She-Ra, I think (and, truth be told, I have something from the Masters of the Universe in the works as well). I really love BraveStarr, though. It has all of the things that made MOTU great (great humor, colorful characters, awkward animations and voice acting), but has a very unique space western setting to help it stand out. The judge here is a great character with her laser gavel and competence in battle. Plus, she's a fiery redhead, and who doesn't love that?
Here we have McBride being shared by the title character of the show, Marshal BraveStarr, and his trusty steed, Thirty/Thirty (who can change between a horse and a horse-man). They're best friends and share everything. I plan to do at least two more pictures featuring these three, both pretty similar to this one. I can't say when they'll pop up, but I had to choose between three ideas I really liked and want to do them all eventually.