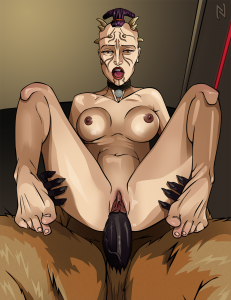 The WWOEC Woman of the Month for January 2016 is Sugi from Star Wars: Clone Wars. She seems appropriate enough for this month, seeing as how Star Wars fever is still running from the release of The Force Awakens.
I never watched the Clone Wars, so I wasn't familiar with Sugi. I had a hard time deciding what I wanted to do with her, but one of her few appearances has her cooperating with a Wookie general, so I thought this was my chance to do something with a Wookie, and here you go. I don't know which Wookie this is, but it doesn't really matter. She's pretty stuffed, whomever it is.
I can't say for certain that I will, but I did find myself thinking about possibly doing more with the Clone Wars characters some day. Ahsoka is really cute, and I know she's been popular among certain artists for good reason. In researching for this pic I was also introduced to Riyo Chuchi, who I really liked and would make an excellent partner for Ahsoka if I wanted to the lesbian route. We'll see if I still feel that way next time I'm looking for something in that vein to draw.