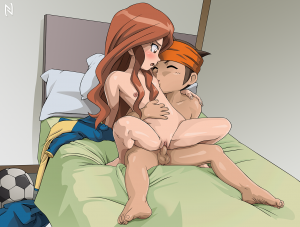 The May Near Hentai Monthly Lady is Natsumi Raimon (Nelly in the dub) from Inazuma Eleven. I have only a passing familiarity with this character, since I only got into Inazuma Eleven for the shota/yaoi potential, but after looking into her some more I guess she's a fairly important character in the show. I wasn't sure who to pair her with, but according to the Inazuma Eleven Wiki she eventually marries Mamoru/Mark, our main protagonist. Since he's one of two characters from this show I've drawn before, I figured I'd go ahead and do the canon/predictable pairing so he can show up again.
I think I've also had a change of heart about which names to favor from this show. In the past I've used the dub English names for whomever I drew, since that's what I've done for shows like Pokémon in the past. I just feel weird about the Inazuma Eleven dub names, though. The dub of this series is nowhere near as widespread and seen as Pokémon's, and online it seems like I see the Japanese names far more often. So I've changed the tags for the pics I've done in the past, and will use the Japanese names going forward.
With this post, NHML nominations for the month of June are now open. For those who don't know, I'll run down the rules real quick. Nominations are limited to one per person. You can nominate any female character you want, provided I have not drawn her within the past calendar year (though I prefer characters I've never drawn, period). Previous NHML winners are not eligible for a second time. Nominees must also not be from the same franchise as this month's winner, Inazuma Eleven. If you violate any of those rules, I'll let you know, and you can nominate someone else. I know it can be hard to keep track of these things. You may nominate by either commenting in the cBox, commenting on this post, or emailing me (Nearphotison2010@yahoo.com). I'll compile a list of the nominees in the sidebar of this site, and then on June 1st I will use a randomizer to select the winning character who I will proceed to draw sometime that month. I look forward to seeing who you all nominate this time around!