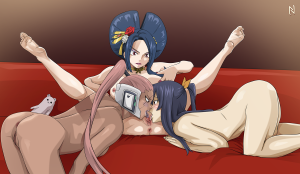 The Near Hentai Monthly Lady is Kurenai from Edens Zero. I don't know much about this series, so I browsed her Fandom page for info. I saw Valkyrie Yuna and Homura (Kurenai's biological daughter and Yuna's adoptive one) both coming up a lot. I don't think there's any point in the show where something like this could've happened, but I liked it better any other ideas I had for her so this is the direction I went. I had to watch a lot of scenes of these three when planning this pic, and while I'd originally written Edens Zero off as Fairy Tail in space, to my surprise it seems to actually be quite a bit worse than Fairy Tail. At the very least, the arc these three appear in seems completely rancid to me, hopefully I don't have to brush against this series too much in the future.
Yuna is a robot, and is shown to have robotic fingers in the show… sometimes? I tried to pin down how her body should be drawn, but came back with more questions than answers. Her hands are usually robotic, but her feet don't seem to be. Then I found a bath scene she's in, where even her hands look human, so I just drew her human-looking.
With this post, NHML nominations for the month of February are now open. For those who don't know, I'll run down the rules real quick. Nominations are limited to one per person. You can nominate any female character you want, provided I have not drawn her within the past calendar year (though I prefer characters I've never drawn, period). Previous NHML winners are not eligible for a second time. Nominees must also not be from the same franchise as this month's winner, Edens Zero. If you violate any of those rules, I'll let you know, and you can nominate someone else. I know it can be hard to keep track of these things. You may nominate by either commenting in the cBox, commenting on this post, or emailing me (Nearphotison2010@yahoo.com). I'll compile a list of the nominees in the sidebar of this site, and then on February 1st I will use a randomizer to select the winning character who I will proceed to draw sometime that month. I look forward to seeing who you all nominate this time around!