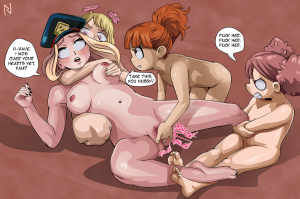 Here's this month's Near Hentai Monthly Lady, Camie Utsushimi from My Hero Academia. I don't know this character very well, since she hasn't appeared in the anime yet and I haven't read the manga. I did do a bit of research, though, and one reader of the manga suggested I use a scene where she is trying to pacify a bunch of elementary schoolers and three girls in the class get jealous of her. The dialogue here is based slightly off what they say in the manga scene. Since these characters haven't appeared in anything but the manga (though Camie herself has at least appeared in color), I had to make up the colors. Hopefully when this volume of the anime comes out they won't be too terribly different from how I interpreted them.
EDIT: The anime finally aired this scene, so I've done a slight adjustment now that these characters all have official colors: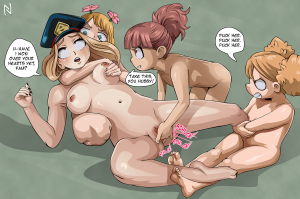 With this post, nominations are now open for March's NHML. The rules are simple. One nomination per person. All nominees must be a woman I have not drawn in the past year (though I prefer women I've never drawn before). I'll compile a list of the nominees on the sidebar of this site, and on March 1st I'll use a randomizer to select one of them to be drawn by me some time during the month. I look forward to seeing who you all nominate!