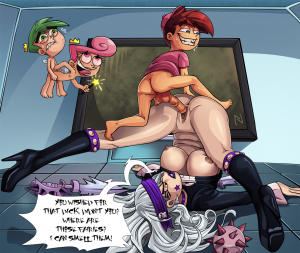 The WWOEC Woman of the Month for October 2015 is my nomination, Ms. Doombringer from the Fairly OddParents episode "No Substitute for Crazy". I thought she had a really hot, badass look, especially for a show like FOP, but I had a hard time finding quality porn of her. So, here we are with my contribution.
I'm really surprised that I haven't done more FOP art before now. I really liked the show when it first started airing, and there are several characters that I always thought were really hot. I always enjoy other people's FOP porn, so maybe I'll try and do some more of my own if people like this.
I'm super busy this month, with a sudden influx of commission work on top of a handful of my own stuff that I need to get out in October. I'm trying to balance them all out, but don't be surprised if there's a long pause of material followed by several posts in close succession.