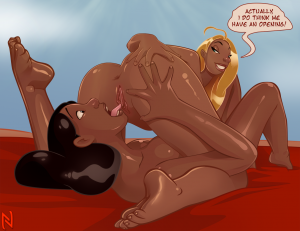 The WWOEC Woman of the Month for June 2015 is the lifeguard from Lilo and Stitch. She appears briefly in one scene, where Nani is looking for a job while Lilo and Stitch cause trouble. She seems like she may be able to become a lifeguard herself, until Stitch is agitated and causes a panic, which results in the lifeguard snubbing her. Despite her short appearance, this character caught a lot of people's attention for not only being very sexy, but also because she seems to have a bit more breast animation than the other women in the film.
I've always really liked Nani, and since I've been meaning to draw her anyway I took advantage of the opportunity to throw her in with our sexy lifeguard. I had also considered pairing her with the Swimmer NPC from Pokémon X and Y, since they have similar designs, but this seemed more straightforward.
Nani thought she'd lost her chance at finding a job when this one slipped out the window. However, desperation brought her back to plead her case, and a little oral persuasion helped the lifeguard see her in a new light. After all, the lifeguards could always use an extra pussy licker on hand for those long shifts.