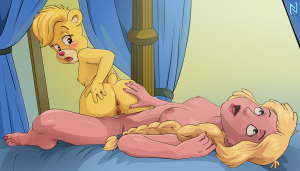 When I was a kid, the Disney channel was a subscription service similar to HBO or whatever. When I was an infant my parents had a brief trial period with subscription channels like them, and during that time they filled up blank VHS tapes with whatever they could (both kids shows and stuff as well as movies for them). So, growing up, I had several VHS tapes featuring Disney's Adventures of the Gummi Bears. These tapes were my main interaction with this series, as much later when we got Disney on cable they were well past that era. I haven't thought about the show much since then, but kinda had to once Calla here won the Near Hentai Monthly Lady raffle.
I've talked in the past about enjoying pairing normal human characters with cartoony characters, and I saw this franchise as a good opportunity to do that. I see Calla and Sunni as appealing in a similar way to Sonic and Chris Thorndyke, just gender-flipped. I was tempted to try and work Grammi Gummi into this pic, as looking back at the series I found myself appreciating her design a lot more than I did as a kid, but in the end I opted not to. Calla and Sunni's friendship is cute and easy to work with, so I kept this pic simple. However, there's a chance I might come back with some other Gummi Bears content down the line (unless I forget and move on).
With this post, NHML nominations for the month of December are now open. For those who don't know, I'll run down the rules real quick. Nominations are limited to one per person. You can nominate any female character you want, provided I have not drawn her within the past calendar year (though I prefer characters I've never drawn, period). Previous NHML winners are not eligible for a second time. Nominees must also not be from the same franchise as this month's winner, Gummi Bears. If you violate any of those rules, I'll let you know, and you can nominate someone else. I know it can be hard to keep track of these things. You may nominate by either commenting in the cBox, commenting on this post, or emailing me (Nearphotison2010@yahoo.com). I'll compile a list of the nominees in the sidebar of this site, and then on December 1st I will use a randomizer to select the winning character who I will proceed to draw sometime that month. I look forward to seeing who you all nominate this time around!