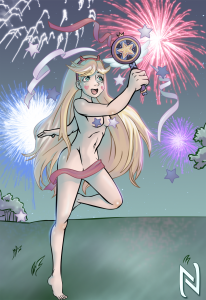 This is a commission I completed recently, and saved for today's holiday. The character is Star Butterfly from Disney's new show "Star vs. the Forces of Evil". She's a princess from another dimension, and the concept here is that she misunderstood "stars and stripes forever" as "stars and strips forever".
I started watching this show as a result of this pic, and I like it a lot. I'm planning to do more with it in the future, specifically more explicit concepts.
I experimented with colors here, going a bit outside my usual comfort zone. You guys may remember another nighttime commission I did not too long ago where I tested out purplizing the image. While I don't hate how that turned out, I kind of like this one more. I also used a much more pastel palette, which I think helped a lot.