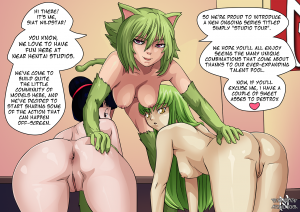 So this is the result of a concept I've been trying to get a grasp on for some time. Originally it was going to just be one character "training" new hires in a series of yuri pics, but I decided to open it up to have a bit more potential with the pairings.
For those who don't know, a fun little concept I've been running with lately is that my content is created within a fictional porn studio, where the cartoon characters gather and live and interact when the cameras aren't rolling. A number of the Character Asks I've done have relied on this idea, but I think this series will let us have a bit more fun with it.
My character choices for this pic are reflective of the potential I see in the concept. In the center is Siat Wildstar, who is an O.C. of mine and sort of the mascot of the Near Hentai Studios. On the left is Chi-Chi, a regular around these parts who's been featured in many pics I've done. On the right is C.C. from Code Geass, a character I haven't drawn before but who is being introduced through this series.
Even though this series was originally a yuri-specific one, and the main ideas I have for it right now are all yuri, I do not foresee it staying that way. I hope to see straight and yaoi crossovers in this series in the near future, provided people like it enough that I stick with it.