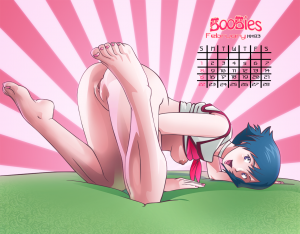 So here's the second installment of the Space Dandy-based BooBies Calendar series. This month is February, and features the only other Boobies waitress (to my knowledge) to get dialogue outside of group lines. She appears in the first half of the second episode, serving the main characters and taking selfies with them alongside Honey.
True to form for this series, I couldn't find any instance of her having a name. Since she's by far the second most important character I'll feature, you can be sure that none of the other images for this calendar will have character names in the tags. It's all background characters from here on out.
Like with 99% of the content I put out these days, I used a photo reference for this image. I mention it here only to say that I absolutely loved the way the models legs and feet were lit in the picture, and went through painstaking measures to try and recreate that look in this image. I am a bit concerned that it made the rest of the image (especially her face) look a little bit flat, but I think it paid off.
UPDATE: It looks like she was given the name Candy in the Space Dandy Picture Dramas (thank you, Anonymous), which means we now have two named BooBies waitresses! Now all we need is for them to name the other ten waitresses I'll be doing in this line, and my tagging OCD can finally be satisfied…