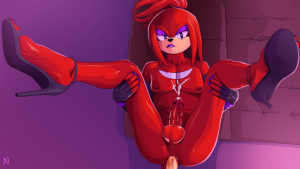 Some of you may remember not that long ago when I posted my own take on Sonnie the Sluthog, a fan version of Sonic that I'm quite fond of. I said then that I would like to draw "slutty" versions of other Sonic characters, and the first one I'm taking a stab at is Knuckles.
I'm not the first to give Knuckles this treatment, and in fact several elements of this design are borrowed from what other artists have done. Unfortunately, I'm not 100% sure where certain things originated, but his makeup colors, ponytail, and even the name "Knuxxxy" are all borrowed/stolen from other artist's work. With my version I decided to make him a bit taller and more toned than my take on Sonnie. Not quite to Sonic Boom levels, but if he was standing next to Sonnie he's be a full head taller.
I hope you guys like these "Sluthog" pics, 'cause I really like making them. I haven't decided for sure yet which character to do next, but I'm looking forward to returning to this series soon.