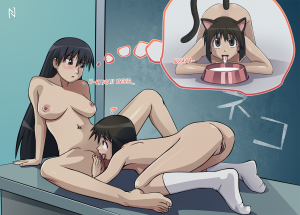 I've said before that I don't like to take requests without payment, since I think it sets a bad precedent. On the one hand, it potentially takes business away from other, cheaper artists that one may go to if I'm too expensive, and it also makes it harder to say no to other requests later on. However, I do tend to draw requests when I get inspired by them, but at that point it's really more a matter of me drawing something I really want to, and someone's comment just happened to spark the idea.
This is sort of one of those situations, though in this case the idea came from someone I know IRL. She's been re-watching Azumanga Daioh with her boyfriend, and one morning I got a random text from her saying, "You should draw Kaorin with Miss Sakaki." I agreed. I haven't done anything with Azumanga Daioh in forever (and even then, it was mostly color jobs), even though I really love almost every character in the show, and I've been wanting to do more yuri pictures anyway. When I read the text I pretty quickly got the idea for this pic and got to work.
After classes one day, Kaorin finds herself alone with Miss Sakaki and, in panicked desperation, blurts out a confession. One thing leads to another, and Kaorin finds herself with Sakaki on top of the teacher's desk, her pussy inches from her face. Suddenly realizing what's happening, a self-conscious Kaorin tentatively licks the pussy in front of her. Sakaki, from her vantage point, is suddenly reminded of a kitten lapping at a bowl of milk. She can't help but picture Kaorin as a catgirl, an image so cute it pangs at her heart.