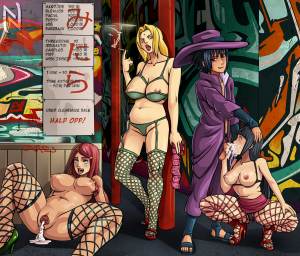 This image started as a commission, but the commissioner wanted to keep their purchase private. I support that, but since I put a lot of work into this image, I convinced them to let me release an altered version, which you see here. Prostitution is not a theme I typically visit, but here's one pic of it for those of you who enjoy that.
I never really cared for Naruto myself. I read the first few volumes of the manga, but it never held my interest and I gravitated away to other things. So, probably there won't be much else of Naruto on from me in the future, unless it's commissioned or crops up in a crossover project of some kind (of which I have a few planned).
I recently finished my time at university, and should have a lot more time to devote to my art now. I have another commission or two I need to work on, and then I'd like to get back to Eromugen and some other pics that have been sitting half-finished on my computer for a while. Once I get caught up, I'd like to try starting some other comics that update a page at a time like Eromugen, though we'll see just how much time I actually end up having.