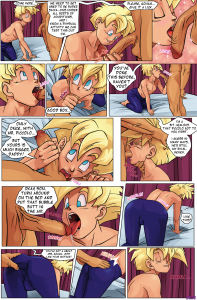 It's been a long wait, longer than I'd expected, but now that the bulk of my commission work is behind me I took some time to wrap up the second page of Special Training. Here we see Goku's plan go better than expected, and we learn Gohan may have a bit more experience than his daddy thought.
This page was a bit of a learning experience. I plotted out too many panels, which is part of why it took so long. It actually originally had more, but I combined a couple to make the page less crowded. I just love drawing Gohan sucking his dad's cock so much, and I went overboard because of it. I'll have to be careful about that in the future, so I can have less crowded pages and larger panels.
There are going to be some other comics cropping up around here soon in addition to this one and Space Emperor Slut. While I never plan to have more than two comics like this running at a time, commissions are a different matter, and I have three commissioned comics in the works right now. I think you guys will like them, though, so look for those soon.