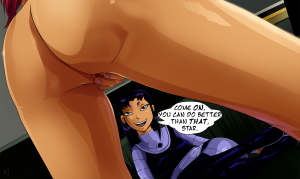 Starfire puts on a little show for her big sister.
I've been wanting to do a pose like this for a long time. I've seen it done before, but I wanted to do a pic where the viewer looks between a woman's thighs to see a spectator enjoying a show. I've almost done it a couple times before now… the Daphne-Snack picstarted life as something similar to this, but plans changed or what-have-you. With all the Beast Boy/Raven stuff I've been doing lately, I was kinda itching to do something with Starfire. When I hit upon the idea of using this scenario with the 'fire sisters, I liked it too much to not do it.
I kinda really like this interpretation of their relationship, too. Starfire's not really a pushover or anything, but I could see her willingly taking on a submissive role for her beloved sister (either before Blackfire got really evil, or maybe later after all is forgiven). Either way, Blackfire's a natural domme, and I'm sure she would relish the opportunity to exert control over her little sister, and humiliate her every step of the way while she's at it. I may revisit this theme for these two.