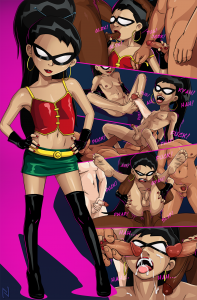 So I know it's been a minute, but I finally got the second entry in the "Trap Sluts" series wrapped up. These ones take a little while, especially when I'm focused on other projects, but I hope they're worth the wait.
This one features Robin, leader of the Teen Titans, partaking in a different sort of nighttime escapade than we usually see him doing. His design here is partially inspired by some feminization fetish pics I saw of him a long time ago (the ponytail and hoop earrings, mostly), while the outfit's based on different "slutty" versions of the Robin outfit I've seen worn by cosplayers and the like. I'm pretty happy with how this one turned out, and I hope you guys like it, too. Eventually there will probably be a Beast Boy entry in this series, though I don't know yet if any other characters from this show will be showing up.
I don't want to do two entries in a row for this series from the same show, but I know how much people like my Dragon Ball stuff. To compromise, early on we're probably going to see every other entry be a Dragon Ball trap, 'cause I have at least five planned off the top of my head (maybe more, I'm not sure yet). The next entry will be one of these, so somewhere down the line that'll be going public.