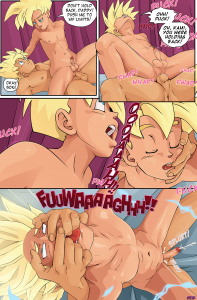 Sorry about the long wait, but like I said before, Special Training is a background project now. The only reason I'm working on it at all is because I feel like it's close to ending. Just like with this page, page fourteen will be a long ways out, but it will come when it's ready.
In this page, Goku gets serious at Gohan's urging. I've had a little bit of feedback concerning how Goku's balls look in the second panel, and I wanted to address it a bit. You see, I had a video where the guy on bottom was really going to town in this position, and I loved the way his balls slapped upwards with each thrust. This is basically a direct recreation of how it looked (though maybe it looks a bit weird as a still image, instead of the full motion?). But I just liked how passionate it looked in the video and tried to recreate that intensity as best I could.
As for the final panel, this is something that I'd had planned before ever starting the project. Goku's having his first orgasm here, and Gohan his second. They're not 100% done and there are more pages to come, but we're definitely on the "downhill" side of things now.