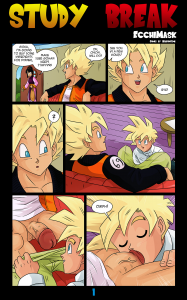 If you'd like to see more of EcchiMask's art, you can find his (SFW) DeviantArt here: https://www.deviantart.com/ecchimask
And his (NSFW) HicceArs here: https://hiccears.com/artist-profile.php?apid=85328
And here is where he posts most of his adult work: http://www.hentai-foundry.com/user/EcchiMask/profile
EcchiMask is an artist I met through Malezor, who has an ongoing Goku/Gohan comic called Study Break. After talking a bit, I agreed to color it, and here's the first page of that. Some of you may notice the comic pairs well with my own Special Training, and if you wanted to view it as a sequel to that comic I'd have no issue with that. It fits in well with what happens in that comic, I believe, though I played no hand in writing this one (colors only, everything else is EcchiMask).