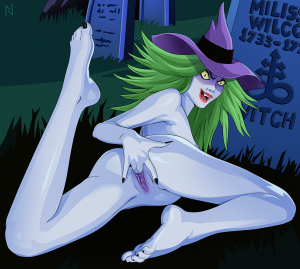 So for the past couple months I've been watching a lot of Scooby-Doo content. This started with watching Mystery Incorporated, then to watching several of the animated movies (a mix of the recent specials, the mid-2000's DVDs, and the classic 80's movies). Currently I'm watching "What's New, Scooby-Doo?", but I've also been watching a few random episodes of the classic series. One of these episodes is "To Switch a Witch", from "The Scooby-Doo Show". It's nothing too out there for classic Scooby-Doo, but part of why I wanted to watch it was that the monster of this one really caught my eye. She's the resurrected ghost of Milissa Wilcox, a victim of the Salem witch trials who's returned for revenge. It's a classic witch trope, though this being Scooby-Doo she's obviously not really Wilcox's ghost.
The thing that makes this ghost special, for me, is that the story of the episode meant she couldn't be an old crone like most other Scooby-Doo witches. The gang is brought into the mystery because they came to help Velma's friend Arlene Wilcox settle this old estate. Arlene is Milissa's descendant, and the townspeople think the ghost is coming back through her body because they have the same face. Since Arlene's a pretty young woman, this means the witch is also pretty (though they gave her spooky eyes and creases around the mouth, which kinda spoils the illusion of them looking identical for the viewer, since IMHO she looks about as much like Arlene as she does Daphne). Anyway, spoilers for a 30+ year old cartoon coming up, but the ghost is actually Arlene's long lost twin sister she didn't know about. It's kinda a weak reveal, and we don't even see her unmasked or get a name for her (although we can assume she just looks exactly like Arlene).
The episode is fun, but I felt inexplicably drawn to this ghost witch. Not only do I think her design is really appealing, but her witchy laugh and general antics in the episode also charmed me. I don't know if it's just me, or if other folks will enjoy this too, but I really wanted to draw her. Obviously this sort of pic would be more timely at Halloween (the episode itself is even a Halloween episode), but if I waited for the calendar to catch up I'm sure I would've forgotten about her. I did another sketch of her and Arlene both presenting their asses side-by-side, and I might go ahead and finish/release that pic down the road if people seem interested in this one. It's hard for me to guess since I'm not sure how much people will agree with me on this character, and she's a relatively deep cut… Anyway, I hope you all can enjoy this spooky gal.