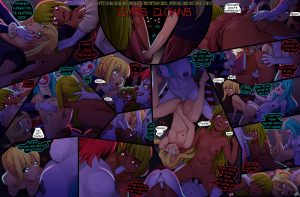 So, every year for Halloween I like to introduce some new monster characters into the Spookyverse. I thought it'd be fun to do a monster clown this year, and I got attached to this idea of two monster clowns stalking some schoolgirls in an empty high school. The idea seemed like it'd need to be more than one pic, though, so I decided to do a little standalone comic for it. This one ended up a little busy, but I hope everyone will be able to enjoy all the action.
The clown girls didn't originally have names, but as I was working on it I started referring to the pink-haired one in my head as Pinky the Clown. Since I played so much Pac-Man as a kid, this lead to me also calling the blue-haired one Inky the Clown. Those names stuck, and now they're just named after Pac-Man ghosts. Talking with some of my Subscribers, I decided it'd be fun to also include a Blinky and Clyde, even though they don't appear in this comic. I'll probably do bio pages for all four clowns eventually, but I picture Blinky as a red shota clown, and Clyde as an orange loli with a look similar to Tear from That Time I Got Reincarnated as a Slime. I kinda like the idea of all four of them roaming this high school like the Pac-Man ghosts themselves, and Inky and Pinky were just the lucky ones who found Heather and Grace first.
Speaking of Heather and Grace, they were really just designed to be two human girls the clowns could violate. I do like them, though, and if y'all want to see more of them I could see maybe integrating them into the Applebridge universe or something. As for this incarnation of them, though, they'll only show up again on the Halloween special that will serve as the finale of this comic, basically, which will be a normal single pic of all four characters from this comic.