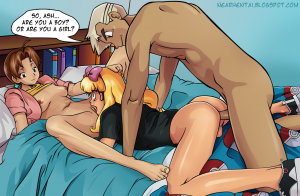 This is a piece I started a couple months ago and finally got around to finishing. I'm really happy with this one, though I don't know how many people will enjoy it as much as I do. I've got a lot of my kinks in here (shota, trap, bisexuality, incest), so hopefully there'll be some people who also enjoy all of those things. I hope so, because I'd like to do more specialized drawings in the future.
Ash's wig here is based on the episode Pokémon Scent-sation!, where Ash had to crossdress as "Ashley" in order to get into the Celadon Gym. I don't remember many episodes of the anime, but that is one of the few I recall fairly well. I have a few specific memories growing up of being attracted to a crossdresser in something I liked (another example being Jimmy Olsen in the old, old, old Superman comics), which probably contributed to my interest in cartoon traps as an adult.
Of course, Oak's line in this pic is based off one of the first things he asks you when you start up the original Pokémon games. I'm surprised more people haven't taken the quote in this direction.
If you like seeing Ash in this role, then you'll be happy to know I have a Bijob pic in the works that features him. It may be some time before I get around to finishing it (I believe there will be at least one other pic in the series before it), but it's coming along.