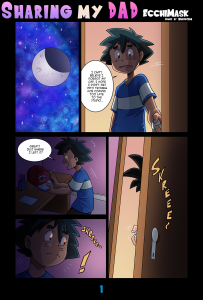 If you'd like to see more of EcchiMask's art, you can find his (SFW) DeviantArt here: https://www.deviantart.com/ecchimask
And his (NSFW) HicceArs here: https://hiccears.com/artist-profile.php?apid=85328
And here is where he posts most of his adult work: http://www.hentai-foundry.com/user/EcchiMask/profile
So, after completing the colorization of EcchiMask's Study Break, we agreed to do the same for another comic of his. This is "Sharing My Dad", a crossover comic that I think a lot of you will enjoy. It's set in a setting very similar to my Near Hentai Studio concept, and I colored it to match it up with that location (some of you may recognize those pinkish-purplish walls). Page two is already on the Post Schedule, and we'll see a bit more of what's going on here in that page.