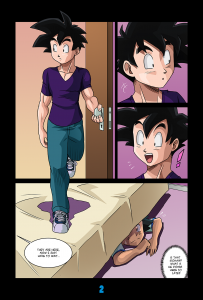 If you'd like to see more of EcchiMask's art, you can find his (SFW) DeviantArt here: https://www.deviantart.com/ecchimask
And his (NSFW) HicceArs here: https://hiccears.com/artist-profile.php?apid=85328
And here is where he posts most of his adult work: http://www.hentai-foundry.com/user/EcchiMask/profile
So, I know my tags gave it away on the first page, but here we see that it is in fact Gohan entering the room. Panicked, Ash hides under the bed. What will happen next? I guess we'll find out on page three.