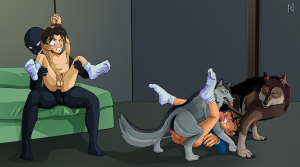 Here's another commission. The client wanted to show Conan (Jimmy Kudo) and his friend Mitch captured by a suspect out for revenge. For those not familiar with Case Closed/Detective Conan, the show portrays suspects as black shadow people as a way to conceal their identity until they've been arrested. This specific scenario isn't based on any one episode from the show, but rather an original story by the client who purchased this picture. Here's his description of the backstory:
More or less a year ago (in Detective Conan), an young science woman named Monashir Matsumaeya of Ainu origin returned in her ancestral territory in Hokkaido, to assist with the preservation of the reservation where her her Ainu family live. She was accompanied by her shikoku (A breed of Japanese Wolfdog), and as she was doing her job in the forest, she found a couple of living Ezo wolves, Japanese northern wolves that were extinct by the end of the 19th century (if I recall well, back then the Japanese government exterminated them).

Understanding her unbelievable discovery, she reported it to her Ainu family whose her uncle is the chief. And as this wolf had great importance for the Ainu culture, they decided to give their best to keep them secret for now. meanwhile, the girl tried to get her own wolfdogs breeding with those Hakkaido wolves. Which succeeded after several months.

But one day she learnt that some works and constructions were planned and about to start next to the reservation, and notably in the part were the wolves had taken shelter. So, she did a plan to stop it in assassinating the responsibles, Shiromainu Munehide Dakehara – who is the higher up/boss behind this project (and from Ainu ancestry, so there is also some feeling of betraying behind the act) and Genzaburou Hareakari, the overseee of the project, when this one was visiting the construction site. Sadly, Conan and his team that were in visit too on Hokkaido, he busted her while impersonating Kogoro Mori after having killed the guy, and she was arrested.

The Ainu, even if disproving what she did, kept and hide the puppies from the wolfdog and the wolves. And it was the cousin of the woman that rose them… while planning his revenge, as during the arrest of her sister he spotted Conan impersonating Kogoro. A year passed, and the man (Itakshir Matsumaeya) ended up to finding Conan, capture him and his friend that accompanied him. And decided to let now adult puppies to have their turn too.
Like with shows like Inazuma Eleven, I'm using the English localization names for tags with this franchise, even though I actually like the Japanese names better.