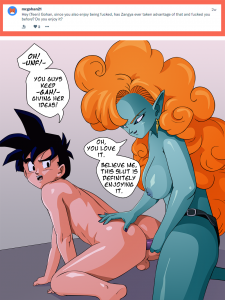 Yeah, it's true. Gohan likes it up his butt, and Zangya's prepared to give it to him. I think they're both having fun with this. Sorry, I don't have much more to add to this one.
Also, I recently made a little video talking about my relationship with the series Naruto. I get asked a lot about why I don't like drawing it, and while I've talked about it before and many of you know why, I thought it'd be convenient to put together a little video explaining  everything.
My History with Naruto from Nearphotison on Vimeo.