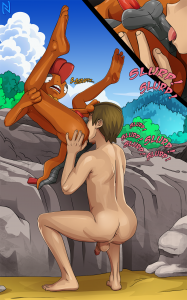 So recently I decided to reopen my commissions for a limited number of people (I have to do this, as it was pretty quickly that I had more than five commissions on my plate). Because of this I may be a bit slow with some updates as, other than my upcoming comic posts (which are also commissions), I've put all my current projects aside to focus on these for the time being. If it looks like updates might take a while, as a couple of the commissions I got could take a while, then I might try putting out a real fast Near Pokédex entry or something. We'll see how it goes.
This time the client asked for a picture of a generic male trainer giving analingus to his male Scrafty. I was asked to zoom out from what was visible in the reference picture so that we could see the Scrafty's feet, and I also made sure the trainer's body was visible as well (in the reference image, the guy licking was mostly a head and hands). The client also paid a little extra for a close-up shot of the rimjob.
I'm looking forward to some day doing more with Scrafty, as this Pokémon is one of those I think will make a great entry for both the male and female Pokédex. I don't know when I'll get to do either of those, or even which will be first, but I think Scrafty are really cute either way.