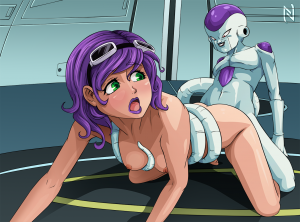 So this one is a bit different from my normal commission fare. This is a birthday present from the client who commissioned it, for the owner of the OC paired with Frieza here (I later found out her name is Hobbes). Her birthday isn't until the end of December, but I was told it would be okay to go ahead and post it here.
Normally I do not accept OC commissions. I made an exception in this case because I thought the gesture was incredibly sweet; I love the idea of my work being someone's present. The OC's creator is a big fan of Frieza, and apparently likes my comic Space Emperor Slut. I was shown a handful of her own art featuring this pairing, and I thought they were super cute. So, I had a few reasons to accept this commission.
I do not know if she will see this post before her birthday. If she does, then I wish her an early happy birthday myself. It was an honor to contribute in some small way.