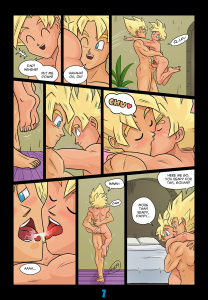 If you'd like to see more of EcchiMask's art, you can find his (SFW) DeviantArt here: https://www.deviantart.com/ecchimask
And his (NSFW) HicceArs here: https://hiccears.com/artist-profile.php?apid=85328
And here is where he posts most of his adult work: http://www.hentai-foundry.com/user/EcchiMask/profile
Here's the seventh page of EcchiMask's Study Break comic, with colors provided by yours truly. Now that Goku's cum on his son's face, the couple is ready to move things to the bedroom. I haven't had much time to work on coloring the next page, but once I get it ready you'll see it go up on the Post Schedule first.