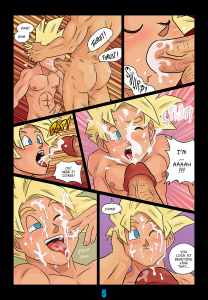 If you'd like to see more of EcchiMask's art, you can find his (SFW) DeviantArt here: https://www.deviantart.com/ecchimask
And his (NSFW) HicceArs here: https://hiccears.com/artist-profile.php?apid=85328
And here is where he posts most of his adult work: http://www.hentai-foundry.com/user/EcchiMask/profile
Here's the fifth page of EcchiMask's comic "Study Break", with colors provided by yours truly. On this page, Gohan's oral efforts yield results, as his dad unloads all over his face. Enjoy!