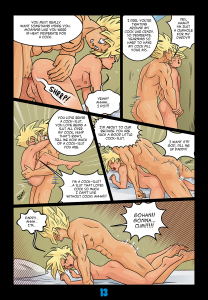 If you'd like to see more of EcchiMask's art, you can find his (SFW) DeviantArt here: https://www.deviantart.com/ecchimask
And his (NSFW) HicceArs here: https://hiccears.com/artist-profile.php?apid=85328
And here is where he posts most of his adult work: http://www.hentai-foundry.com/user/EcchiMask/profile
Here's the latest colored page of EcchiMask's Study Break, with colors by moi. We're in the final stretch here, as Goku plows his little boy in as many ways as he can think of. The next page is already up on the Post Schedule, so you should have some idea of when to expect it (though things like the NHML pic might knock it back a day or two).